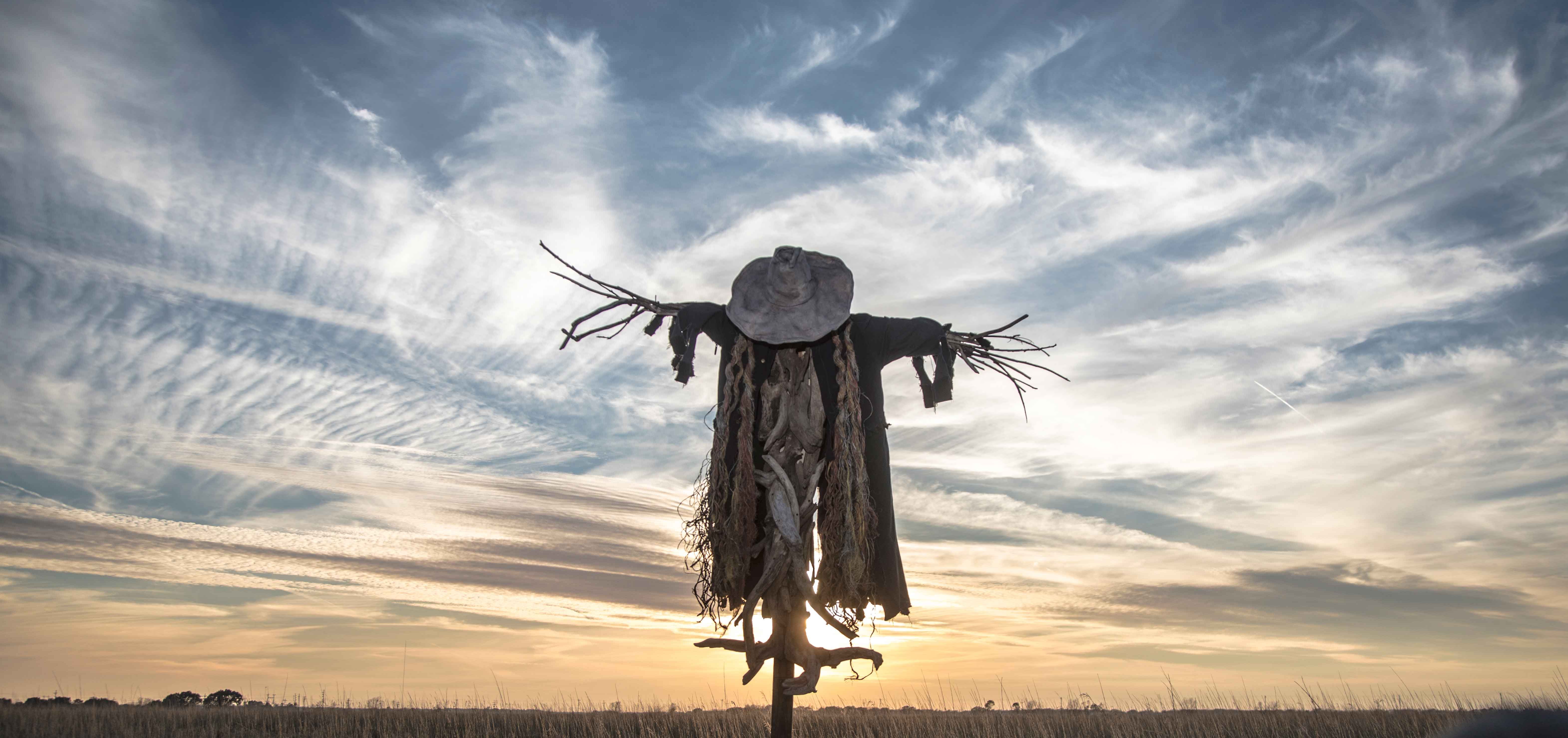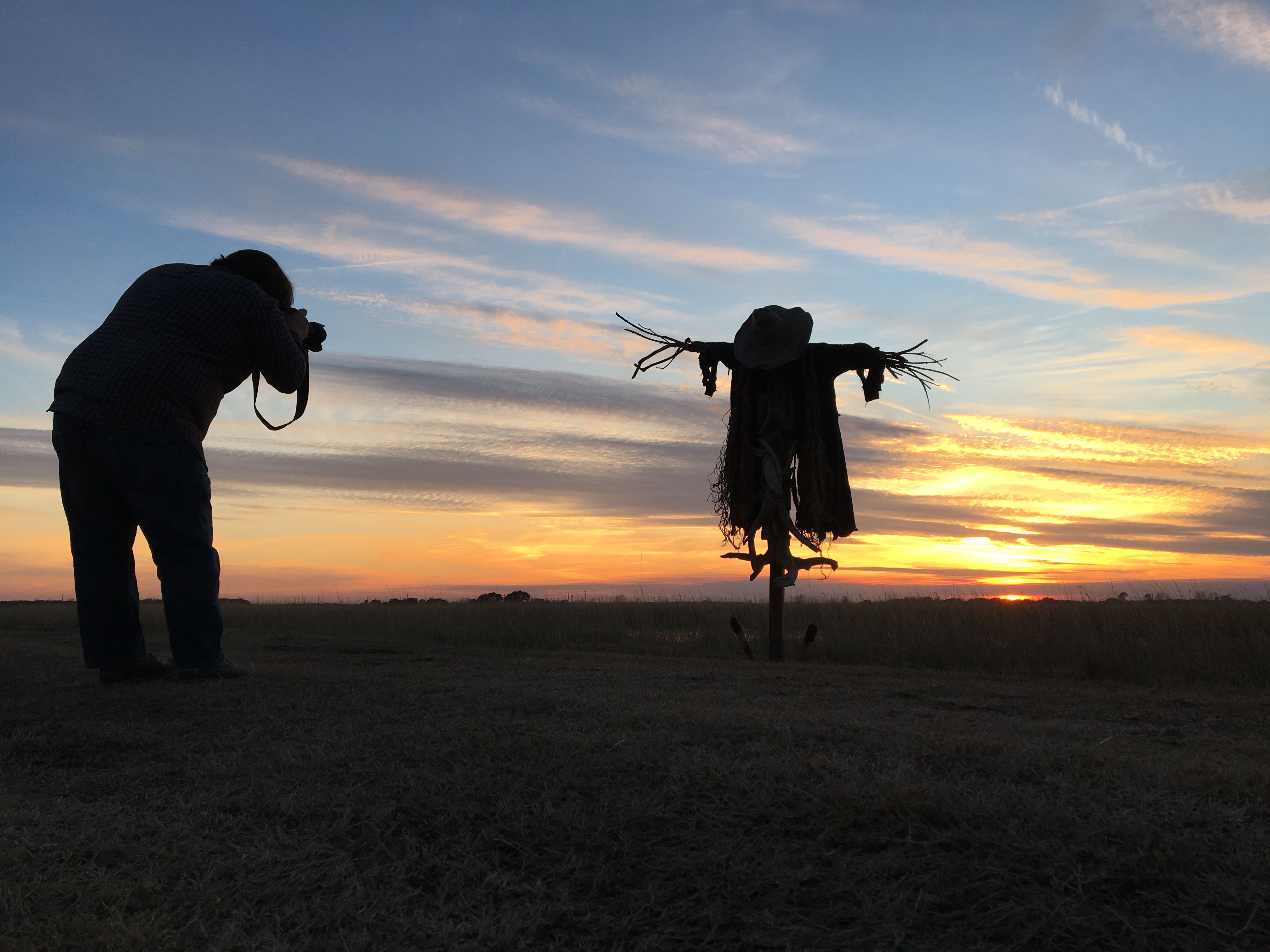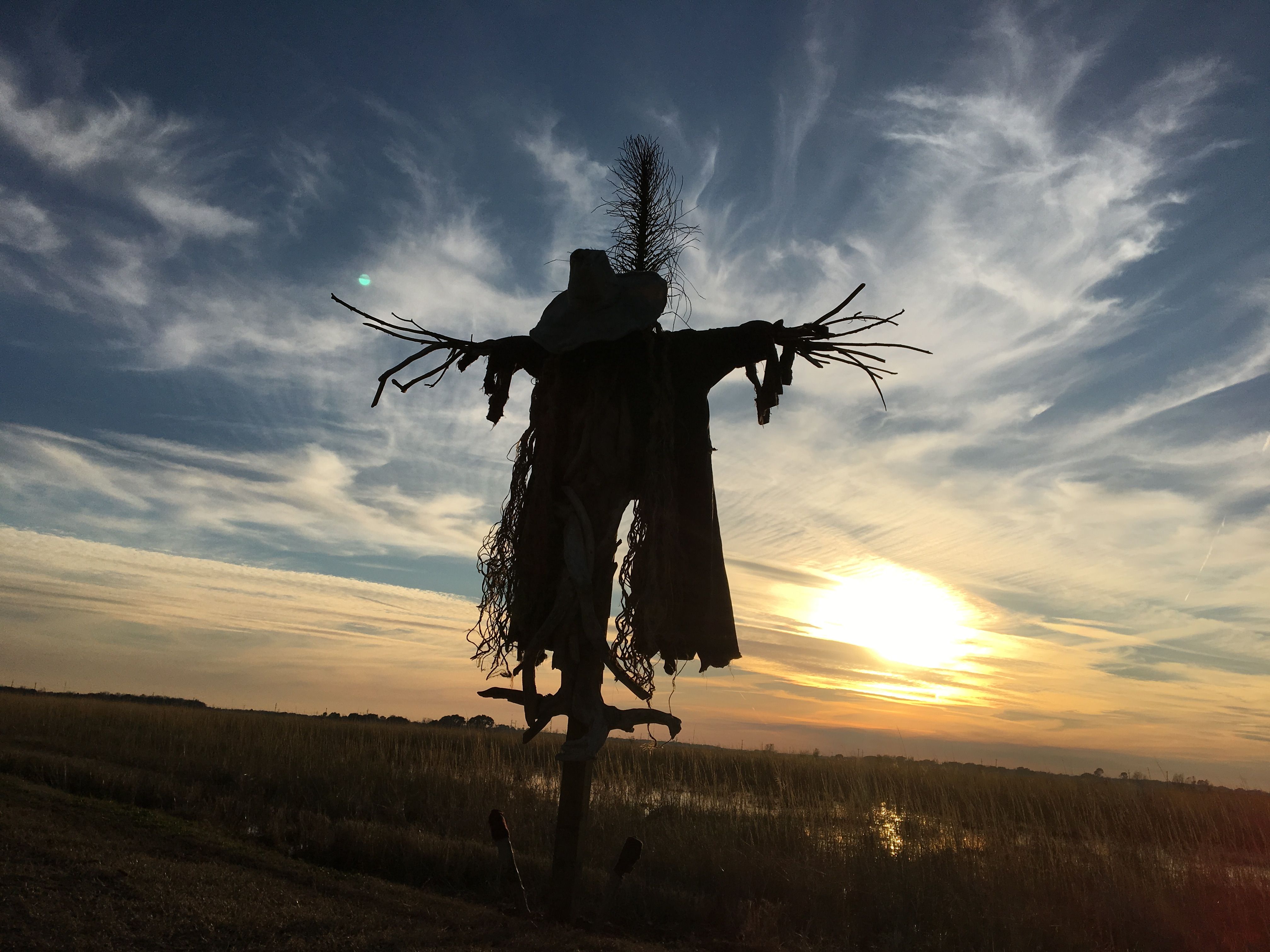 18X27" PRINT | THE SCARECROW 
- Signed/limited-edition: #1-25 
- $25/each + shipping. 
-Full-color landscape print on 80lb matte 
- BUY: http://brotherdege.net/merch 
DETAIL: This is a landscape, alternate shot 
of the Farmer's Almanac cover, 
Photographed by Lucius Fontenot 
in Mowata, Louisiana, 
Where my grandparents, great grandparents 
Are from. 
The symbolism of the scarecrow 
(a crucified, Christ-like scarecrow figure, 
Playing upon our preprogrammed superstitions, 
Founded or unfounded fears, divine superintendence, 
As well as the crumbling ideal 
Of the American dream or ideal 
Of moneid success) 
Has been floating around in my head 
And in my songs 
For a loooong time. 
However, a cohesive album concept, 
Devoted to the sad beauty 
& ragged narcotic wasteland 
Of small town rural America 
Didn't begin to materialize 
Until I moved to New Orleans 
And began playfully, 
Almost unthinkingly, 
Building a scarecrow sculpture 
Composed of driftwood 
Pulled from the Mississippi River 
Three blocks away from my house. 
In my spare time, 
While walking our dog 
With my girlfriend, 
I began noticing 
All of the anthropomorphic shaped driftwood, 
Shoring up 
Along the banks of the Mississippi. 
I began collecting the interesting pieces 
Taking them home 
And slowly, 
Assembling the pieces 
Of the Scarecrow in sections. 
After a couple weeks 
Of trial & error, 
I found a workable shape 
And a system of assembly, 
Namely, attaching all of the pieces 
Together with long drywall screws 
And lag bolts. 
After that, I bought him an old overcoat, 
Had a custom hat made, 
And draped him 
In some colorful tug & salvage ropes 
I also found along the banks 
Of the river. 
Eventually I mounted the whole thing 
On an 8 foot tall pine 4x4, 
Which was essential 
As the completed scarecrows 
Weighs about 75 lbs. 
The end result came out so good, 
I tried to make a second scarecrow. 
Just to have as a backup. 
It didn't come out nearly as good, 
So burned it in our courtyard 
In New Orleans and filmed it. 
Yes, it did freak out the neighbors. 
And yes, we did get complaints. 
Nonetheless, 
The incredibly talented 
Lucius Fontenot shot the cover 
At crawfish pond 
In Mowata, Louisiana 
Near the farmland where 
My Cajun-French grandparents, 
Great grandparents grew up 
And worked the land for an indeterminate 
Number of generations. 
We shot the cover 
On a cold day in January 2018. 
The album was released June 1, 2018. 
The Scarecrow now lives in a storage room 
In Lafayette, Louisiana. 
I'll eventually either replant him 
Or sell him for auction 
At some point in the future. 
Cheers. 
Much love & thx to everyone involved.
Lucius P. Fontenot Photography: http://lafphoto.com/